10 Clever Real Estate Marketing Ideas to Elevate Your Business in 2023
August 1, 2023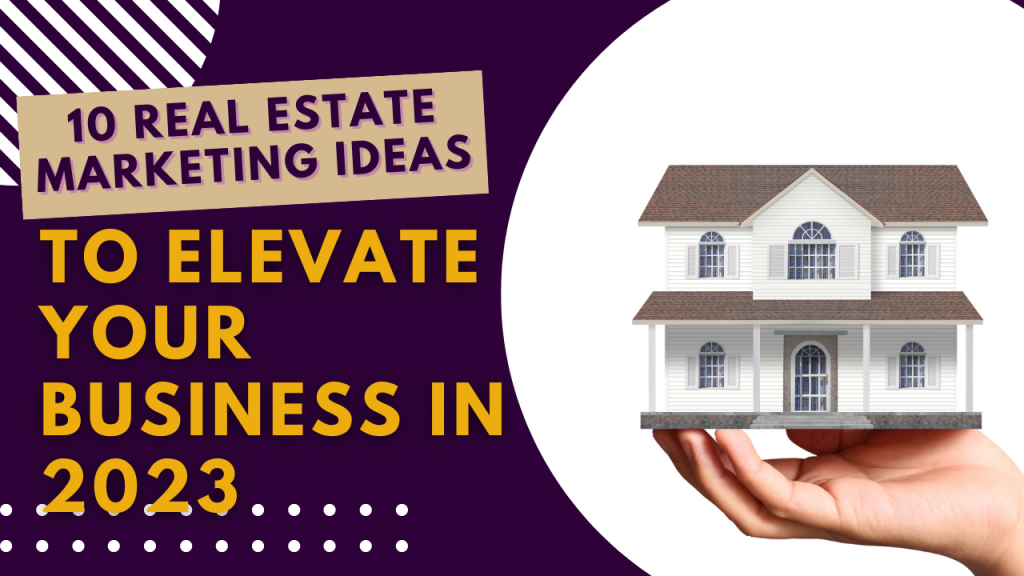 Introduction
In the fiercely competitive real estate market, effective marketing is the key to success. To stand out from the crowd and attract potential clients, you need to implement innovative strategies. In this blog post, we'll explore ten clever real estate marketing ideas for 2023 that will help elevate your business and drive remarkable results.
1. Build a Personal Brand for Everlasting Impact
Creating a compelling personal brand should be the starting point for every real estate agent. A strong personal brand sets you apart from competitors and helps establish a unique selling proposition. It resonates with your target audience, driving prospective leads to seek your services. Invest time in crafting a powerful personal brand that generates compound interest on your investments, becoming a lead generation machine even while you sleep.
2. Develop a Clear & Honest Mission to Drive Emotion-Based Decisions
Emotion plays a significant role in buyers' decisions, making it crucial to align your marketing with your audience's values and ideals. Take time to introspect and identify your "why" as a real estate agent. Create a clear and honest mission, vision, and values statement that guides your marketing efforts. A purpose-driven approach will help you connect with potential clients on a deeper level, fostering lasting relationships and loyalty.
3. Establish Yourself as the 'Digital Mayor' of Your Farm Area
Forge relationships with local business owners, as they can be valuable sources of referrals. Position yourself as the go-to real estate expert in your farm area by becoming the 'Digital Mayor.' Engage with local businesses on social media, collaborate on community events, and showcase your involvement in the neighborhood. Parkbench offers hyperlocal websites and expert training to help you make connections and generate motivated referrals efficiently.
4. Craft a Compelling Slogan for a Memorable Brand Identity
After defining your mission and value proposition, create a short and inspiring slogan that captures the essence of your brand. A great slogan serves as an elevator pitch, making a personal connection with your community. Use it consistently across all your marketing materials to reinforce your brand identity and leave a lasting impression on potential clients.
5. Scale Your Social Media Presence with Ready-Made Templates
To increase your social media engagement and reach, post more frequently on platforms like Instagram and Facebook. Utilize real estate-specific social media templates from companies like Coffee & Contracts, Lab Coat Agents Marketing Center, and Agent Crate. These templates offer expertly designed and prewritten posts, making it easier to educate, inform, and engage your audience effectively.
6. Emulate Successful Social Media Strategies from Top Real Estate Influencers
Learn from the best in the industry and observe top real estate influencers' strategies. Identify which topics and content formats resonate most with their audiences and adapt these ideas to suit your unique personality and style. Remember to add your personal touch to the content to maintain authenticity and stand out from others.
7. Master the Art of Creating Engaging Vertical Videos
Embrace the rising trend of vertical videos on platforms like Instagram, Facebook, and YouTube. Vertical videos have proven to be highly engaging and rewarding in the current social media landscape. Start by shooting quick introductions of yourself and properties before showcasing the listings. This approach can lead to a 3x increase in performance for your videos.
8. Maximize Engagement with Contests, Polls & Q&A Stickers
To boost social media engagement, use interactive features like contests, polls, and Q&A stickers on Instagram Stories. These elements encourage active participation from your followers, helping your posts reach a broader audience and grow your online presence.
9. Leverage Social Media Management Services for Effortless Marketing
Save time and effort by using services like Porchlyte to enhance your social media presence. Porchlyte offers monthly content strategies and fully managed content creation and posting, allowing you to concentrate on selling houses while their team handles your social media marketing.
10. Optimize Instagram Stories & Reels to Beat the Algorithm
Focus your vertical video efforts on Instagram Stories and Reels to take advantage of the platform's algorithm. Stories and Reels receive high visibility and engagement, allowing you to reach a broader audience and enhance your brand awareness.
In a dynamic real estate landscape, implementing clever marketing strategies is crucial for success. By building a compelling personal brand, creating an authentic mission, engaging with local businesses, and utilizing social media effectively, you can elevate your real estate business to new heights in 2023. Embrace innovative marketing ideas to differentiate yourself, engage your audience, and drive outstanding results that set you apart in the competitive real estate market.